Microneedling by SkinPen II
What is microneedling?
Microneedling stimulates your skin's natural ability to produce new collagen and elastin for healthier, younger-looking skin.
Microneedling accelerates this repair process by creating microscopic channels, which also allow products to penetrate into the deeper layers of the skin. New collagen and elastin production can reverse years of sun damage, improve acne scars and enhance the overall appearance of aging skin.
Who is a candidate?
One of the most exciting things about microneedling is that it can be used on all types of skin for a wide range of problems, including acne scars and any area requiring cell regeneration or an intense repair process.
What areas of the body can be treated?
Microneedling is extremely versatile and can be used on all parts of the body: face, neck, décolleté, arms, hands, legs, abdomen and back. This versatility makes microneedling especially helpful when addressing acne scars and stretch marks.
How is the procedure done?
A thin layer of serum is applied to the skin, and the appropriate treatment is selected for a particular type of skin. Then the pen is glided across the repair area in a gentle motion.
What does it feel like?
The unique design of microneedling allows for individualized settings, which makes the treatment quite comfortable for most patients.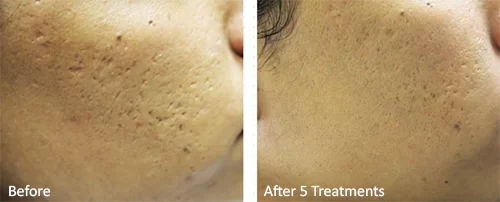 How long does the procedure take?
The procedure typically takes 15-30 minutes, depending upon the size of the area and the severity of skin damage.
What is the downtime?
Immediately following the treatment, you will notice a healthy pink glow. Your skincare professional will recommend products to aid your skin's natural healing process. Total healing time depends on the severity of the damaged skin and the depth of the repair process required. On average, patients are pink for two to four days. Some patients heal completely in 24 hours.

When will I see the results?
Most people notice healthier-looking skin immediately, and the natural repair process of the skin continues to progress over the course of several weeks. Dermal collagen remodeling takes place over time, and it will continue to improve for up to six months after your final treatment.
How many treatments will I need?
The course of treatment will be determined by your skincare professional based upon your individual treatment goals and the health of your skin. Most patients receive a series of three treatments spaced about four weeks apart. For patients with more severe skin issues, additional sessions may be necessary.