What is HydraFacial?
The HydraFacial is a globally-popular service that removes dead skin cells and extracts impurities while simultaneously infusing the new skin with cleansing, hydrating and moisturizing serums. The treatment is soothing, refreshing, non-irritating and immediately effective.

Who is a candidate? What conditions can be treated with HydraFacial?
HydraFacial is designed for all skin types. Even the most sensitive skin easily tolerates the HydraFacial treatment. Our cosmetic providers may choose specific treatment serums or customize the treatment for your unique skin conditions and needs. The key benefits of HydraFacial include:
• Fine lines + Wrinkles
• Elasticity + Firmness
• Even Tone + Vibrancy
• Skin Texture
• Brown Spots
• Oily + Congested Skin
• Enlarged Pores
What areas of the body can be treated?
HydraFacial can treat the face, chest and neck. We also offer HydraFacial Perk, a perfect add-on to any HydraFacial treatment targeted to gently cleanse and hydrate the area around the eyes or lips.
What is the difference between Signature and Deluxe?
Dermatology Specialists offers two HydraFacial options.
The Signature HydraFacial is a 30 minute procedure that deeply cleanses, extracts, and hydrates the skin through our super serums filled with antioxidants, peptides, and hyaluronic acids. The Signature HydraFacial is great for all skin types to cleanse, exfoliate and hydrate.
The Deluxe HydraFacial is a 40 min procedure that includes all of the essentials of the Signature HydraFacial while addressing specific skin concerns with the additions of HydraFacial's boosters and LED light therapy. The Deluxe HydraFacial is best for patients wanting to customize their treatment with an extra boost.
What are Boosters?
Boosters are additional serums targeted to specific areas of the skin in the Deluxe HydraFacial. Our cosmetic providers will decide what type of booster is best for your skin. One booster is used in each Deluxe HydraFacial.



ZO SKIN ROZATROL BOOST
Minimizes the appearance of discoloration and brightens skin tone for an instantly gratifying glow.
GROWTH FACTOR BOOST
Minimizes the appearance of fine lines, wrinkles, and acne to restore skin health and vitality.
DERMABUILDER BOOST
Minimizes signs of aging and recharges skin with a patented combination of peptides and is delivered to help effectively address fine lines, irregularity in pigment, and skin tone evenness and texture.
BRITENOL BOOST
Minimizes the appearance of dark spots and sun spots for an even complexion.
What is LED Light Therapy?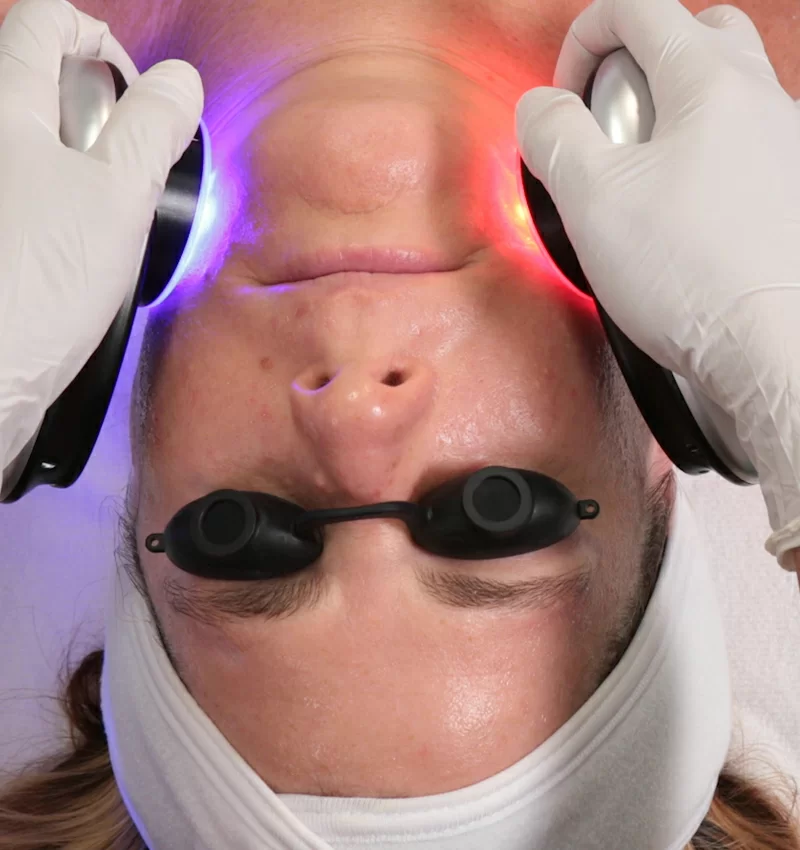 Red and Blue LED lights are used to stimulate collagen production. LED light therapy can help produce collagen and reduce fine lines, wrinkles, age spots, oily skin or breakouts.
The Deluxe HydraFacial includes LED light therapy, which are handheld red and blue LED lights that hover about an inch over the treated area.
The red LED light is used to improve the appearance of skin firmness and resilience, reduce the appearance of fine lines and wrinkles, hyperpigmentation, and other signs of aging.
The blue LED light is extremely beneficial for people who suffer from oily skin or breakouts.
How long does the procedure take?
HydraFacial is a fast, efficient treatment. 

The Signature HydraFacial takes about 30 minutes
The Deluxe HydraFacial takes about 40 minutes

You may put on makeup and return to your normal activities right after the treatment since there is no downtime.



What is PERK?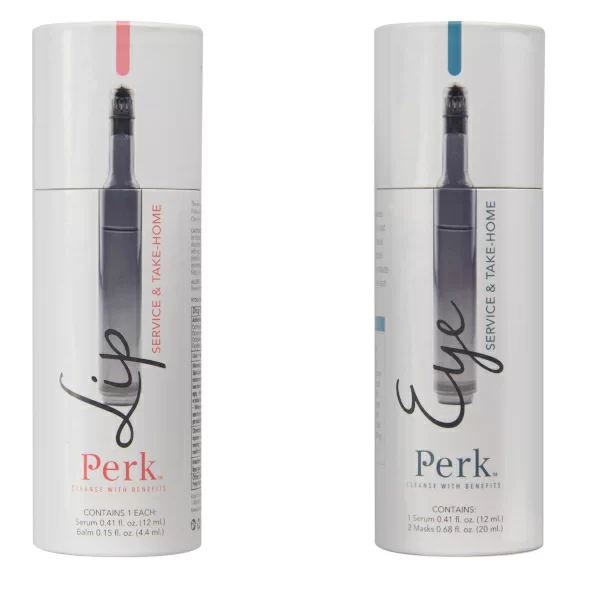 HydraFacial Perk is the perfect complement to both our Signature and Deluxe HydraFacial treatments.  With HydraFacial Perk, patients can gently cleanse and hydrate their eyes or lips which are the most delicate parts of the face. Patients can add one or both services on to any HydraFacial treatment.  Patients will also receive a 30 day take-home product to enhance their treatment and to extend their results. Perk uses patented roller-flex technology to suction out dirt, oil and dead skin cells.
HydraFacial Perk Lip is a revitalizing treatment that exfoliates, hydrates and lightly plumps your lips
HydraFacial Perk Eye is a refreshing treatment that leaves the delicate eye area toned, firmed and hydrated
Are there special precautions needed before HydraFacial?
Patients should discontinue all Vitamin A and Retinoids including: Differin, Tazorac, retinA- and over the counter Retinoids 2 days prior to the appointment. Patients are to arrive without any makeup; this includes eye makeup. No sunburn, active cold sores or open lesions prior to treatment.
What is the downtime? What will my skin look like after treatment?
There is little to no downtime and patients may put on makeup and return to their normal activities right after their treatment. We recommend avoiding excess sun exposure post treatment and use an SPF 30 or higher daily, reapplying every 2 hours while in the sun.
When will I see the results?
Many clients report seeing visible skin refinement and an even, radiant skin tone after just one treatment. The smooth results and hydration may last 5 to 7 days or even longer.


How many treatments will I need?
One treatment per month is recommended for improving the appearance of fine lines, wrinkles, brown spots, oily and congested skin. Continued HydraFacial treatments are highly recommended to maintain skin health results.