The CDC says, "Regular hand washing is one of the best ways to remove germs, avoid getting sick, and prevent the spread of germs to others." We all know the importance of washing our hands especially during this time but frequent hand washing can also increase dry skin and eczema flares. It is important to know what you are looking for in a good moisturizer as outlined below by Dr. Madhok.
Moisturizing your skin has many benefits from feeling and looking healthier to prevention of problems such as itch or eczema. Moisturizers are available as lotions, creams, or ointments. Rather than adding moisture to your skin their primary role is to prevent loss of water from the skin by "sealing in" moisture. Most people find ointment-based moisturizers (such as petroleum jelly) too greasy for general use. Creams are often preferred over lotions due to a lower alcohol content which may dry the skin. Here are 5 things to look for in a moisturizer based on your skin type and needs:
1. Ceramides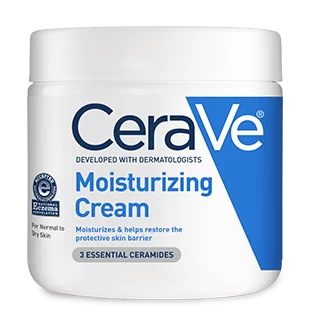 A newer concept in moisturizing is the use of ceramide-containing creams. Ceramides are waxy lipids (fats) that are one of the main components in the top layers of our skin. They help minimize water loss and help create a barrier to infections. As we age, the level of ceramides diminishes in our skin resulting in dry skin conditions, particularly in the cold, dry air of a Minnesota winter. Popular brands include Cerave, Cetaphil Restoraderm, and Aveeno Dermexa cream.
2. Lactic Acid
If you need a stronger moisturizing agent you may choose a product containing lactic acid (a milk byproduct). These are good for severe dry skin but may sting on open or inflamed skin such as eczema or a cut. Amlactin products contain ammonium lactate which is effective for severe, dry skin.
3. Antioxidants
Other ingredients that may be beneficial include antioxidants such as vitamin C, green tea, licorice root extract, or chamomile. Hyaluronic acid, dimethicone, glycerin, lanolin, and mineral oil all lock in moisture to keep your skin hydrated.
4. Fragrance-free, Hypoallergenic, Oil-free
If you have sensitive skin try using a fragrance-free and hypoallergenic moisturizer with fewer ingredients. Also avoid alpha-hydroxy acids, retinoids, salicylic or glycolic acids since these may sting and burn dry, irritated skin. If you have oily skin choose a product labeled non-comedogenic or oil-free to lessen the chance of clogging pores.
5. SPF!
One of the best things to look for in a moisturizer is sun protection to minimize the aging process. Choose a sunscreen-moisturizer with at least an SPF 30 rating. Daily use on sun-exposed skin has been proven to lower your risk of skin cancer as well as lessen wrinkles and sun spots.